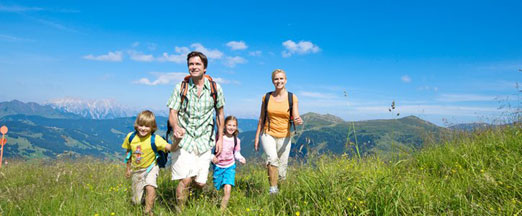 400 kms in the Valley of Fun and Games
Des Müllers Lust.
Der Wadeln Freud.
Und ein paar Tränen.
Unbounded hiking fun!
Enjoy an alpine summer paradise along 400 km of well marked hiking trails. Whether you strike out on your own, prefer guided tours by the tourist association or take to the trails with children – you will have an enjoyable experience!
Hiking information from A to Z
Here you will find plenty of suggested tour suggestions,which were put into 4 categories by our walking guides for you:

"Hiking on our highest peaks"
"Panoramic walks with a great view"
"Walking with the whole family" und
"Theme paths"
Facts & Figures
The unique Pinzgau Grass Mountains
400 km marked walking paths
Instuctional path – walking information, fauna & flora
---
Biking
Our motto couldn't be more true:
"Away from the gray daily rut, into the excitement of the Saalbach Hinterglemm Bike-Circus"
Nestling as the resort does in the Pinzgau Mountains, the area is fast establishing itself as a leading destination for
mountain biking in Austria.
There's nothing like it anywhere else in the world. A breathtaking network of MTB trails and all levels of difficulty, guaranteeing that cross-country bikers, soul riders, free riders and downhill experts all find what they've been dreaming of. And for those of you who don't particularly love those giant climbs, you can take full advantage of our modern cabin lifts. Now you have an effortless way to explore our countless scenic trails.
Here in the Bike-Circus, newcomers to the sport and families will also find easy bike paths for cycling adventures that definitely live up to their promise. And a brand-new highlight: we now connect into the 280 km-long Tauern Bike Path.
Pristine nature, first-class food, hospitable mountain huts, pulsating nightlife, great local infrastructure and our Bike-Circus hotels, guarantee you an extraordinary biking vacation.
Bike-Circus Highlights
400 km of marked mountain-bike trails
720 km network of regional cycling and mountain-biking routes
Connects into the Tauern Bike Path
5 mountain lifts that transport bikes (ca. 4000 vertical meters)

Cross-country

marathon route, half-marathon

Single trails, downhill, freeride, dirt park, North Shore, training course

Collaboration with

Bikepark-Leogang

Numerous bike-friendly huts
Free panorama map

3D bike map on the Internet

The

Bike-Circus Hotels

Daily guided bike tours
Classes in biking technique

Events: World games of Mountain Biking / Freeride Festival 2010
---
An adventure for the whole family!
Doesn't matter if hiking, cycling, climbing, mountainbiking or swimming – there are endless leisure time activities available in Saalbach-Hinterglemm!
Käpt'n Hook – Action Pool
Opened daily from 10.00 to 19.00 h – closed on rainy/coldy days.
You can find more detailed information here.
Climbing tower Hinterglemm
The climbing tower is situated next to the indoor tennis hall. During the Summer season it's opened daily from 9.00 h to 22.00h. Users must bring their own equipment – no rental available! The ticket for the whole day is 3.00 € for kids and teens up to 19 years of age and 5.00 € for adults.
---
Valley end
Teufelswasser
The magic "Teufelswasser" in the near of the Lindlingalm ist a sure place to cool down at high temperatures.
Opening times: Middle of may – middle of october
Admission: free
You can find more information about "Teufelswasser" at www.lindlingalm.at and www.talschluss.at
Baumzipfelweg & Golden Gate Bridge of the alps
Good Bye, San Francisco! We have our own Golden Gate Bridge of the alps with at least the same great view!
The 200m long bridge goes over the valley end at a height of 42m. It starts from the bottom to the 1km "Baumzipfelweg", the highest tree-top trail of europe, which was built on 11 towers in the height of 30m.
Please note: Every visitor gets their own personal tree-top-hat!
Opening times: Throughout the year!
Admission: Adults € 9,00 | children € 5,00 | children up to 4 years – free | Special group- and seniordiscounts on request!
You can find more information about the "Baumzipfelweg" at www.baumzipfelweg.at and www.talschluss.at
High rope course
Pure adrenalin & nature: the biggest high rope course in austria with the longest aerial ropeslide of europe
For thrillseekers the Glemmer valley end offers a special attraction – the biggest high rope course in austria with the longest aerial ropeslide of europe.
A lot of new challenges, funny tasks, great views and above all a lot of fun is waiting for you!
Highlight: the europe aerial ropeslide parcour with more than 2km! The visitors are flying with more than 70km/h in a height of 120m above the Glemmtal.
Opening times: June to 15th September daily, until end of october every saturday, sunday and official holiday.
Admission: you can find the price list at hochseilpark.at
You can find more information about the Hochseilpark at www.hochseilpark.at and www.talschluss.at